The Seven "Must Have's" of a Driver Terminal
13/10/2021
Posted by:

Simplicity Group

Category:

General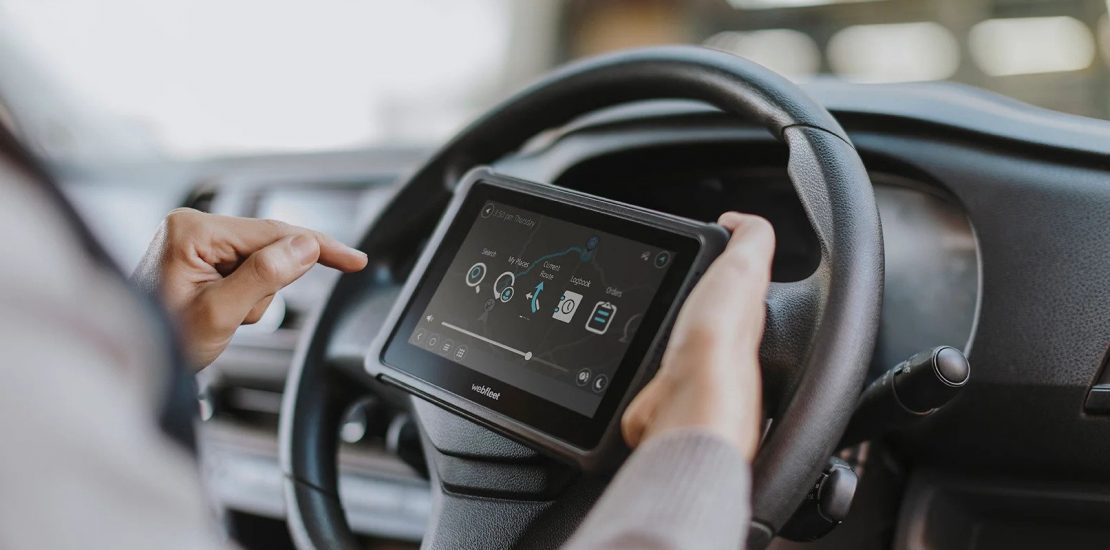 New features are coming out all of the time for driver's telematics terminals. What are the Must Haves in 2021?
The following "must have's" are what we hear as we travel the country (sometimes virtually) on what key requirements are when a company was to provide a driver with an in-cab device. Please have a read of the points below and let us know if you agree with our findings:
1. Navigation
With TomTom best in class navigation your drivers never have to worry about finding a location again. There are a couple of ways that your driver can find a location:
1. Insert the post code or street of the destination.
2. Search the extensive TomTom database for the company you are visiting and select navigate.
3. Use WEBFLEET to send an order, with location co-ordinates, directly to the vehicle that the driver accepts and navigates to the destination.
4. Link your Job Management system to WEBFLEET and send jobs via the API directly to the vehicle. This works in the same way as sending an order through WEBFLEET but has an additional automation.
2. Truck Navigation
By inputting the height, weight and dimensions of your vehicle the navigation will guide your vehicle only on routes it will physically fit. Leave the worries behind of striking a low bridge or being stuck on a narrow country road. The navigation will continually route the vehicle away from these danger zones.
3. Android Platform
Download apps for your drivers to use such as:
1. Daily Walkaround checks.
2. Insurance apps for First Notification of Loss.
3. Digital forms for signature capture and/or photographs.
4. Transport Management apps.
4. Two Way Communication
Communicate directly with your driver by sending text messages. These can be read aloud by the device to avoid and health and safety issues.
5. Live Traffic
Using TomTom Live Traffic your driver can avoid any delays as the device will offer alternative routes to avoid traffic jams. The dynamic traffic data constantly updates based upon the changing situation ensuring your vehicle arrives at the earliest available time. ETA's are shown on the device for the driver and also on the WEBFLEET platform.
Your Transport Team never has to call the driver for an arrival time again!
6. Driver Scoring
In the top corner of the device, your driver can see a RAG (Red/Amber/Green) graphic showing driving performance. They can also access "OptiDrive" statistics based on key criteria such as Speeding, Driving Events, Fuel Consumption and Idle Time amongst others.
Your driver can see that their driving performance meets the expectations of the company at all times.
Your driver no longer has to wait until returning to base to find out about driving performance. This provides continuous improvement of performance and bottom line.
7. Ruggedised
Devices are not always placed in cradles so they can be susceptible to being dropped. This is a particular concern in an HGV as the device can fall from quite a height. The device must always be ruggedised to avoid damage to the screen or the casing of the device.
Learn More
Webfleet Solutions, previously TomTom Telematics, have always had terrific in-cab driver terminals,
The Pro8475 (Truck or LCV) is the best yet. Watch the video below to see it in operation and click here if you would like to find out more