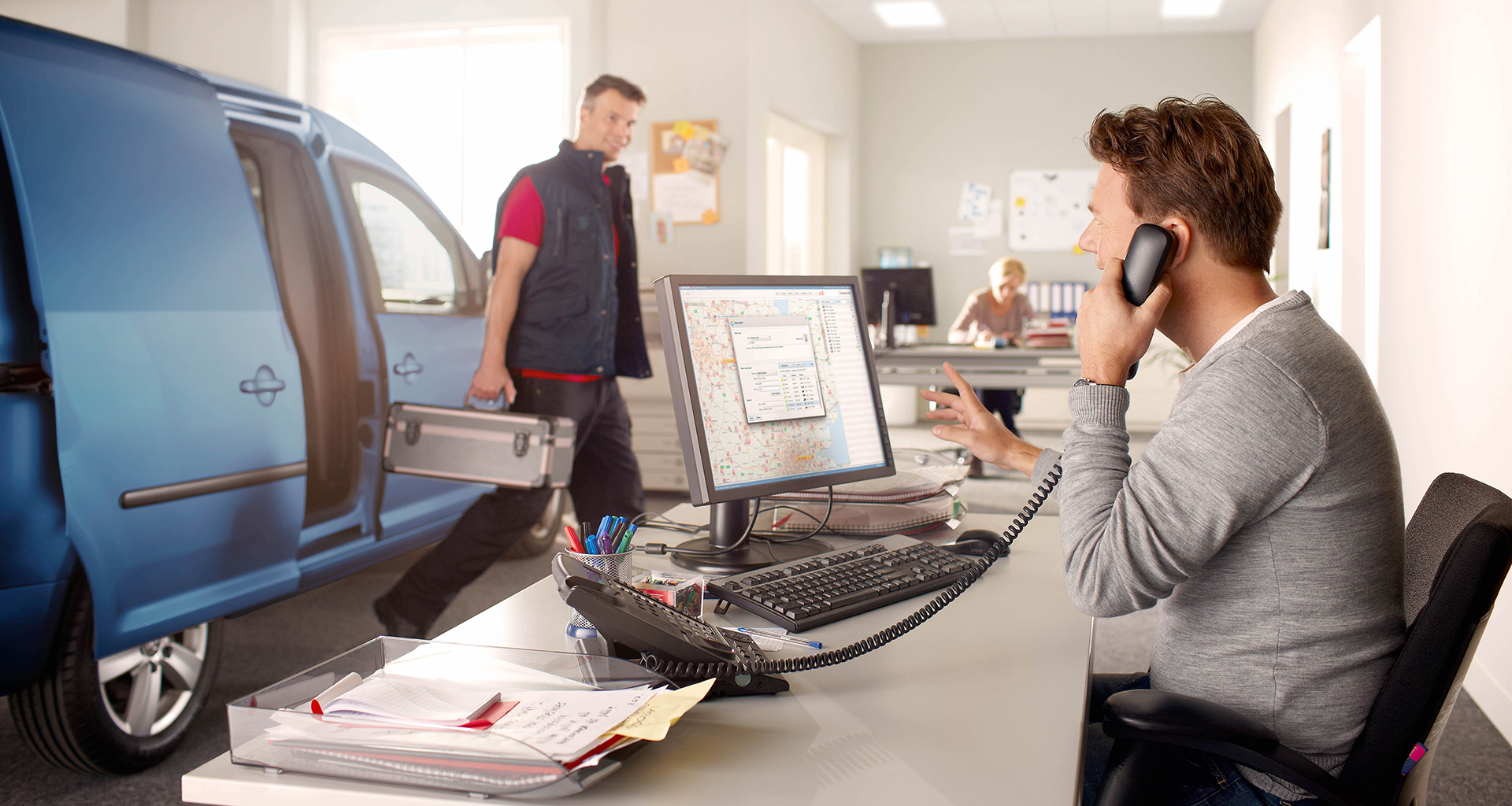 Vehicle Telematics
Our telematics solution gives you much more than merely tracking and tracing. Our fleet solutions are designed to also help the driver. Go beyond knowing when, where and how a vehicle was driven, support your teams in the field with the right tool to make their jobs easier. You'll be up and running within one day, without any IT installation and you'll start saving money from day one.
"The reports provide real time management information presented in a format which is illustrative and easy to understand." Bryan Campbell, Facilities Director, Blackbourne Integrated M&E
More Than Tracking
With WEBFLEET's easy-to-use interface and simple installation you can optimise your vehicle and fleet tracking directly from the office.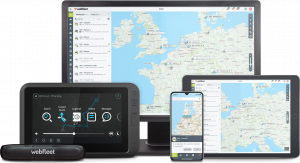 See where your vehicles are – and whether they're parked or on the move – in real time.
The Webfleet device provides your drivers best-in-class navigation and when connected to WEBFLEET, the possibility to communicate with the office and receive orders right on the screen.
Vehicle Tracking
Always know where your vehicles are. Register time, mileage and the location of each of your vehicles historically and in real-time.
Workforce Management
Keep your team and customers happy. Dynamic communication between your mobile workforce and office makes your business agile.
Fleet Optimisation
Improve fleet efficiency. Make smarter decisions with extensive reports and real-time dashboard information about your vehicles.
Green & Safe Driving
Cut costs, reduce carbon emissions and improve safety by improving driving behaviour.
Help your drivers to improve their driving style with OptDrive 360. Drivers get direct feedback and predictive driving advice while driving and WEBFLEET clearly presents the improvement potential to the fleet manager.
Get real-time and historical insight into your fleet's fuel consumption and emissions. Spot trends or anomalies with the fuel efficiency dashboard and compare performance over time with fuel and carbon reporting.
Know your vehicles are well maintained and your drivers are safe. With WEBFLEET vehicle maintenance you'll be notified if a vehicle has diagnostic troubles. And you can plan maintenance tasks based on real-time mileage information.
WEBFLEET sends new job and order details to your driver's terminals and provides real-time status updates and fully automated reports.
Optimise your fleet efficiency by assigning jobs to the driver with the shortest estimated arrival time. With this we do not only look at which driver is closest, but also take actual traffic into account.
Reduce admin time and optimise your team's performance with WEBFLEET's automated working time registration process.
WEBFLEET Tachograph Manager is the reliable all-in-one solution to download, analyse and archive your Tachograph data. And you stay current with regular updates to legislation and details of fines. It's compliance made easy.
WEBFLEET provides you access to real-time driving time information to all your vehicles that are equipped with a digital tachograph. With Remaining Driving Times you instantly know which driver has enough driving time left to do the next delivery job in time.
Interested in Vehicle Telematics?
WEBFLEET is our award winning fleet management solution that provides real-time information about the location of your vehicles, lets you communicate directly with your drivers, helps to improve driving behaviour, save on fuel and connects to a whole ecosystem of 3rd party solutions. And we have been doing this for over 7 years now, serving over 10,000 vehicles in the UK and Ireland.
Complete the enquiry form below and one of our fleet specialists will be in touch with you as soon as possible.